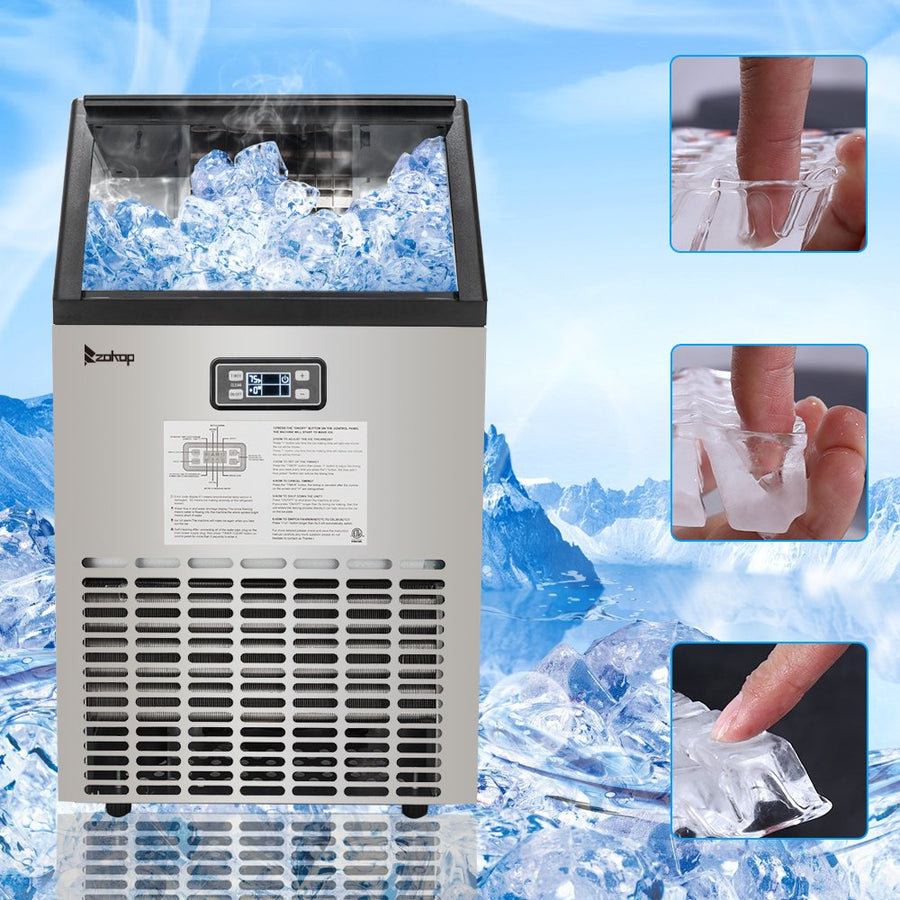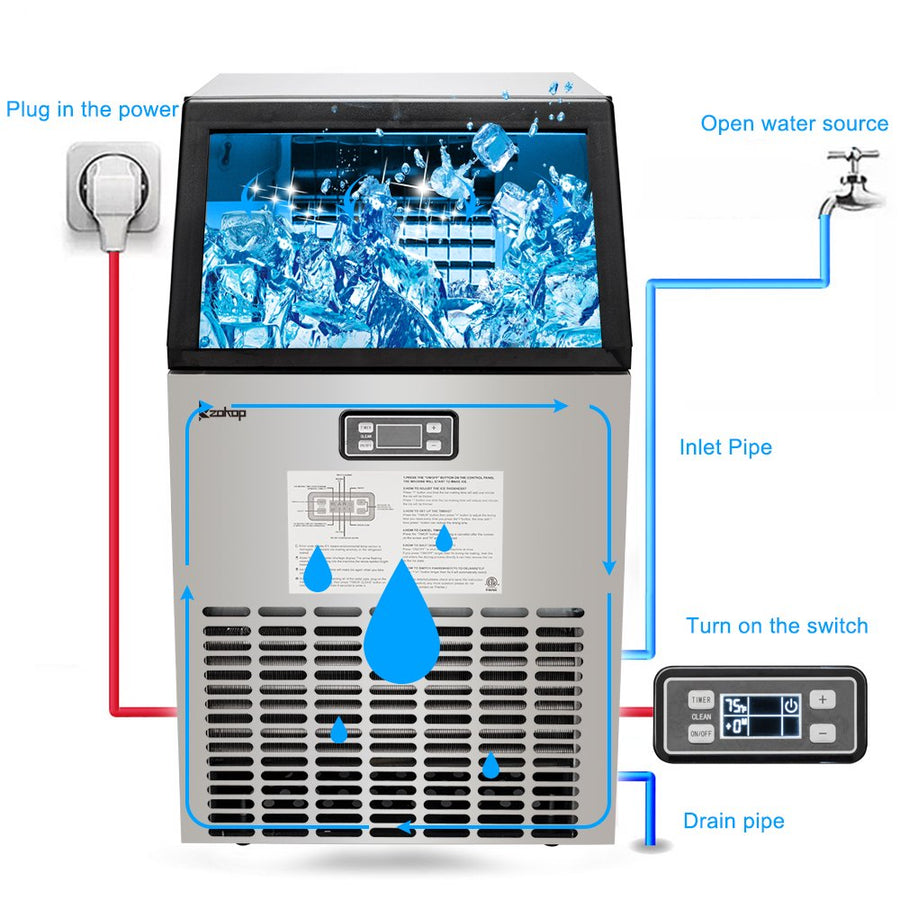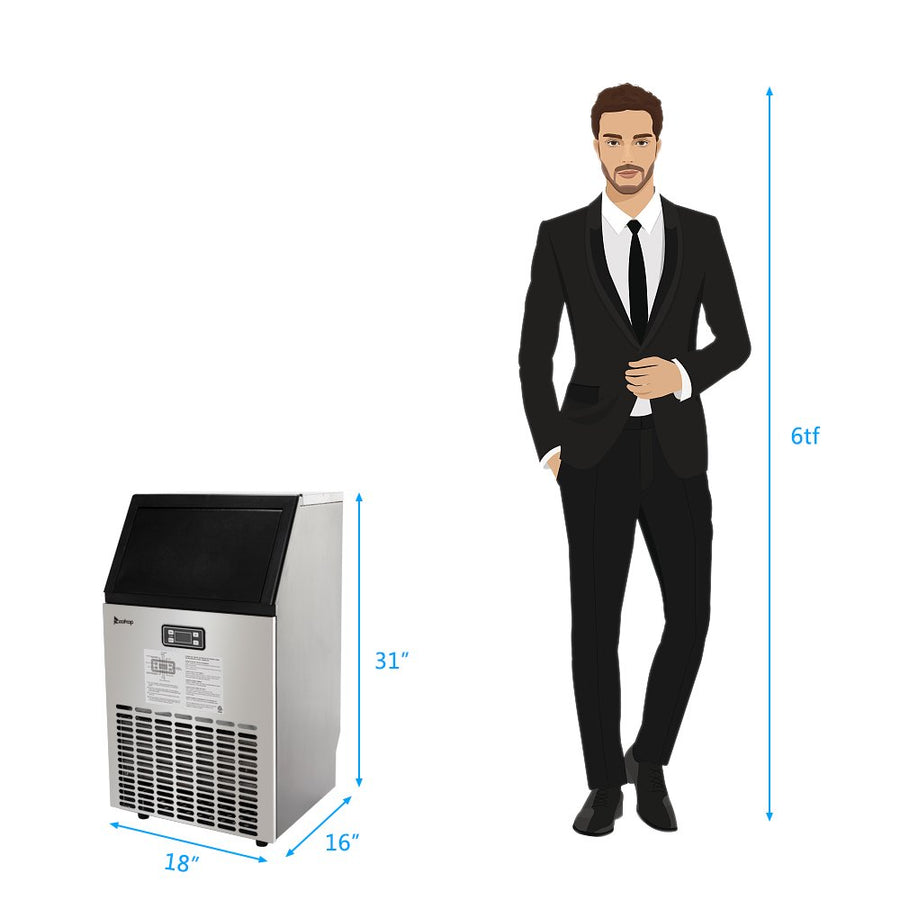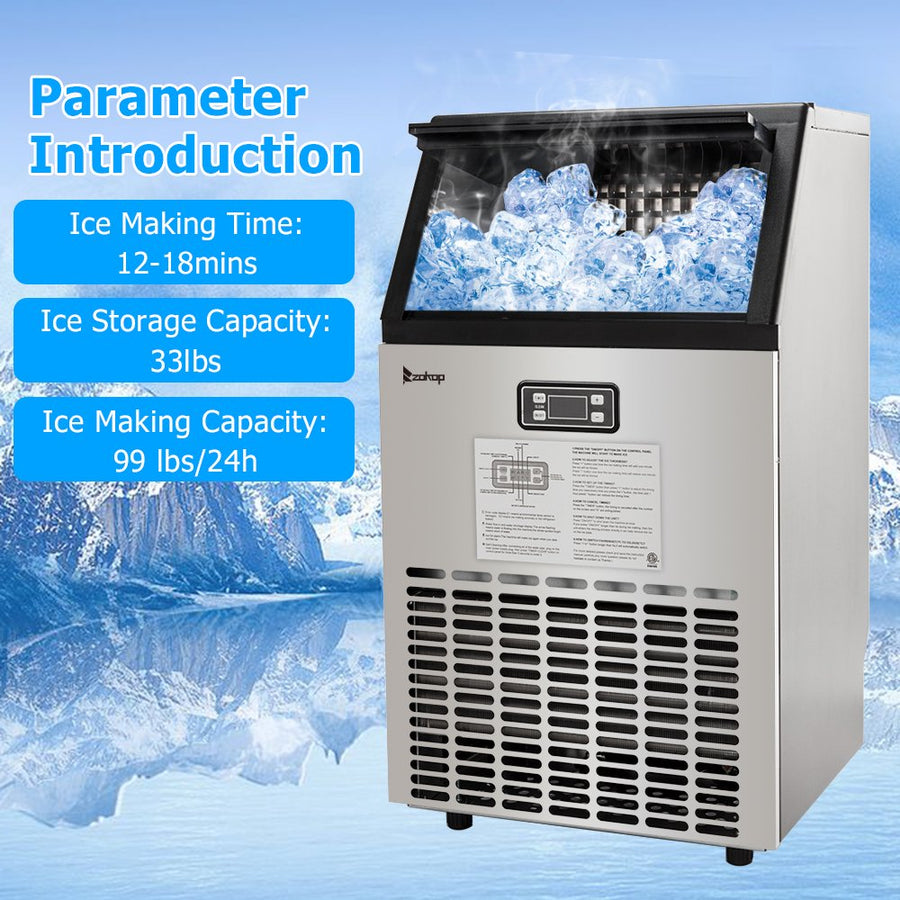 Segmart stainless steel freestanding or built-in application ice machine produces up to 99lbs of clear hard cube-shaped ice per day, a bin capacity of 33lbs and has an 11 to 20 min ice making cycle. It is the perfect option for any home scenario. The ice maker works great for applications in homes, restaurants, bars, hotels, grocery stores, and more. 
【FAST ICE MAKING】 - SEGMART commercial ice maker will bring you convenience and efficiency on ice making. Making 50 clear ice cubes for one cycle in just 12 to 18 minutes—and up to 99 lbs. of ice in 24 hours. Each ice cube is at the standardize of 0.9''*0.9''*0.9'', making it perfect for mixed drinks or small water bottle openings.
【EASY OPERATION with FULL SET OF ACCESSORIES】 - Operation panel with ADD WATER, TIMER, ICE, CLEAN, TIMER CLEAN, etc. buttons will help you control the process of ice making. One ice shovel for convenient ice cubes transferring, one 120" waterline with a quick connector to the faucet, one 80" pipe for water drainage are all included.
【FREESTANDING DESIGN】 - Its freestanding design lets you install the ice maker anywhere inside your home, pantry or restaurant. Just make sure to always have a water outlet near your unit. This 20.5"x19"x35.5" clear ice cube maker does not take up much space at all and has a sleek, rust-resistant stainless steel interior. Adjustable feet on the bottom will keep the machine from the humidity/water from the ground to some extent.
【LCD INDICATOR & AUTO-CONTROL】 - Built with an intuitive and easy to use control panel that has an LCD indicator for displaying water and ice making functions. The ice making time and the thickness of the ice cubes can be adjusted by pressing the (+) or (-) buttons. This machine is also equipped with an automatic cleaning function.
【ENERGY SAVING】 - Equipped with a powerful 200W compressor to cool, it will be a mighty addition to your bar or under counter, while the water usage rate is up to 99%. (NOTE: Please transfer the ice cubes to the freezer if you don't use them instantly).
【COMMERCIAL or LARGE HOUSEHOLD USE】 - Ideal for restaurants, hotels or big households that often require a constant, large quantity of ice. The 1.2L water tank hooks directly to a water supply, so you don't have to worry about filling it up like conventional countertop ice makers.
Features:
1. Constructed by stainless steel, this commercial ice maker is rust-resistant which prolongs its service time
2. Occupied with a large storage capacity of 33LBS, it can create 0.9"*0.9"*0.9" ice cube which meets your commercial demands
3. It has high efficiency of creating ice cube at the production of 99Lbs per 24 hours with 11 to 22 min ice making cycle
Specifications
1. Material: Stainless Steel & Iron Painting
2. Room Temp: 50-100℉
3. Ambient Humidity: ≦90%
4. Ice Making Power: 270-500W
5. Power Supply: 115V/60Hz
6. Ice Making Capacity: 99Lbs/24H
7. Ice Storage Capacity: 33Lbs
8. Ice Shape: Ice Cube 0.9" x 0.9" x 0.9"
9. Refrigerant: R134a
10. Foaming: C5H10
11. Climate Type: SN/N/ST/T
12. Unit Dimensions: (17.6 x 15.7 x 31.4)" (L x W x H)
13. Ice Time: 11-20Min
14. Certification: ETL Listed
15. Brand: SEGMART
16. Weight: 63.5lbs / 28.8kg
Package Includes:
1 x Ice Maker
1 x Inlet Pipe
1 x Outlet Pipe
1 x Ice Shovel
1 x Ice Box
1 x Manual
2 x 4 Split 2 Taps
Attention: Only Free ship to USA ⏰Delivery time 3-8 working days,Shipping from North Carolina for FedEx
If you've ordered the wrong size or have any other issue, you can always exchange or return your order. so long as Your items are unworn, undamaged, in re-sellable condition, and in their original packaging. Your return request is submitted within 30 days of receiving your original order.