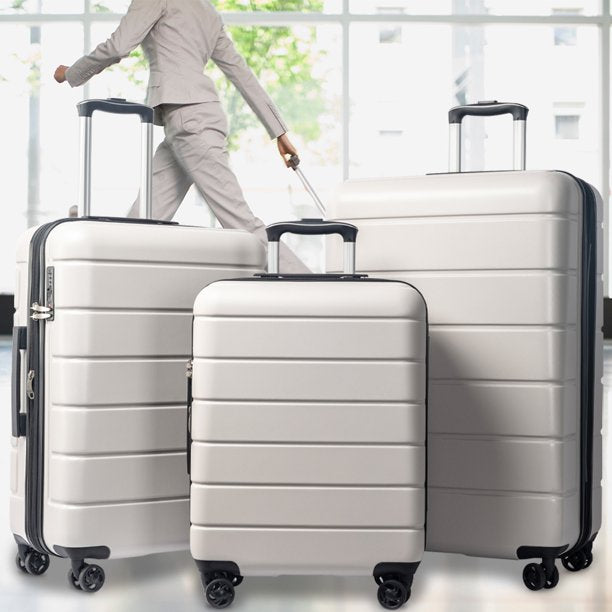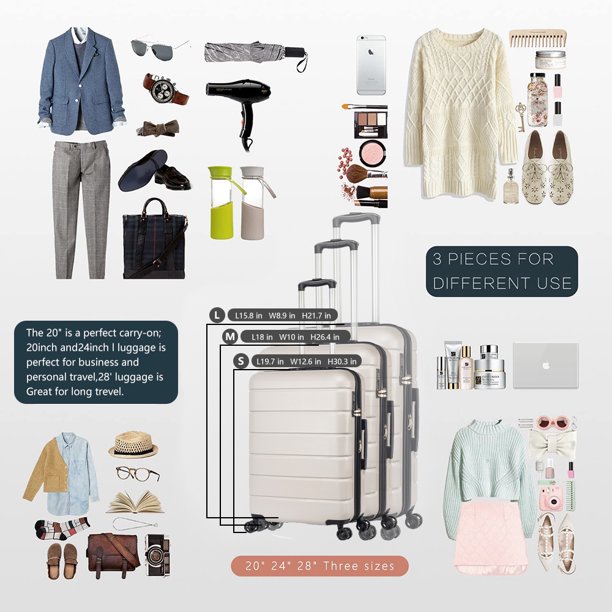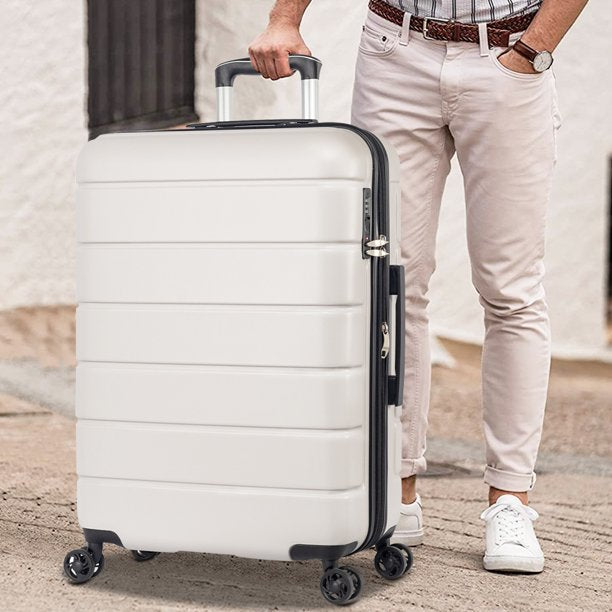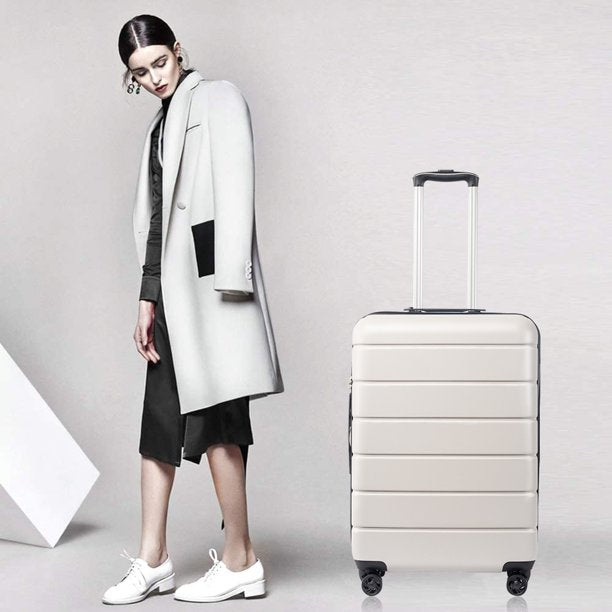 This 3 piece luggage set is ideal for personal and business travel which is in line with airline standards. It will transport your travel essentials effortlessly and stylishly. The 3 piece luggage set can be stored inside each other, offering more convenience and saving storage space. What we want to offer our customers is more than a solid case, but the customer's own style and cool life. Ready to travel with your cool life?
1. 3 Piece Stylish Luggage Set
These 3 piece luggage sets look smooth, bright color, fully-lined interior with a separate mesh pocket, functional elastic cross ribbons to secure the packed clothes. 3 piece luggage set fits inside each other, features one 28inch suitcase for consignment, one 24inch suitcase for checking in and one 20inch suitcase suitable for carrying onto the plane.
2. 360° Double Wheels
The most important feature for luggage wheels is durability and quality. The double wheels will not involve any weed or other small rubbish during usage as for its advanced design.
3. Telescoping Handle
The telescoping handle stows away conveniently and allows for easy maneuvering when extended.
4. TSA Lock
TSA combination lock with resettable code for secure travel in the USA. TSA lock allows only TSA agents to inspect your bags without damaging the lock.
5. High-Quality Material 
Made of lightweight and durable ABS+PC material, with an impact-resistant hard shell, Molded corner guard reinforcements for absorbing and deflecting shock for maximum impact resistance. Resistance to pressure, anti-fall, and solid are professional habits to check-in and travel long distances.
6. Large Storage
---- Small size: 20 inches
20inch (15.8 x 8.9x 21.7) is perfect carry-on.
Travel days: 1~4days
Capacity: 38L
Weight: 6.7lbs
---- Middle size: 24 inches
24in (18 x 10 x 26.4) is ideal for personal or business trips.
Travel days:4~7days
Capacity: 60L
Weight: 8.1lbs
---- Large size: 28 inches
28inch (19.7 x 12.6x 30.3) is ideal for a long trip.
Travel days: 7~9days
Capacity: 93L 
Weight: 10.8lbs
7. Instructions for Reset the combination lock
1. The lock is Pre set to 0-0-0.
2. Push the button on the broadside, while in this position, set each number to your preference.
3. Release the button and your combination is now set.
4. Take care when setting the numbers to not release the button while setting it.
Specifications:
Item Name: 3 Piece Luggage Set
Material: ABS + PC material
Color: Beige
Small Size: 20inch (15.8 x 8.9x 21.7);
Medium Size: 24inch (18 x 10 x 26.4);
Large Size: 28inch (19.7 x 12.6x 30.3)
Package Includes:
1 x 20-inch Luggage Case
1 x 24-inch Luggage Case
1 x 28-inch Luggage Case
Attention: Only Free ship to USA ⏰Delivery time 3-8 working days,Shipping from North Carolina for FedEx
If you've ordered the wrong size or have any other issue, you can always exchange or return your order. so long as Your items are unworn, undamaged, in re-sellable condition, and in their original packaging. Your return request is submitted within 30 days of receiving your original order.