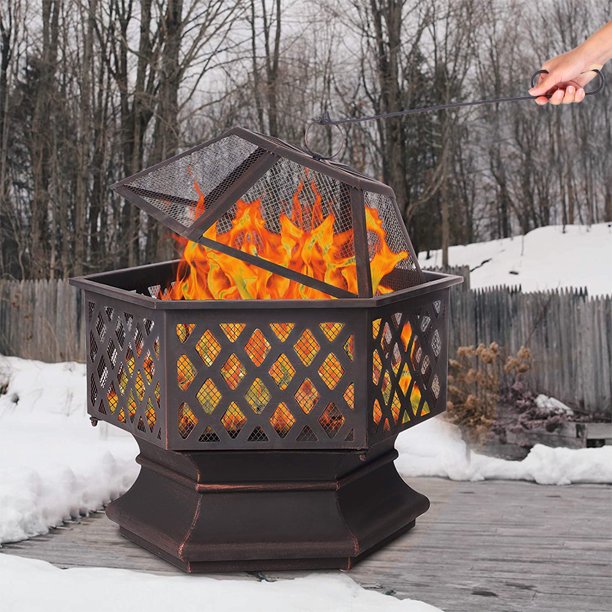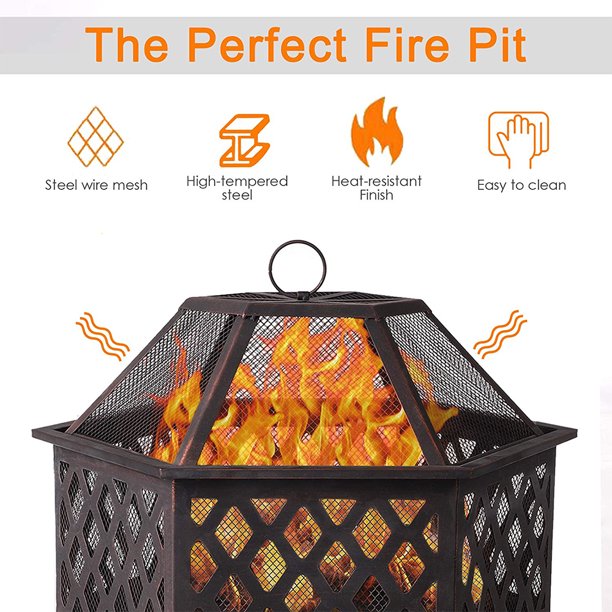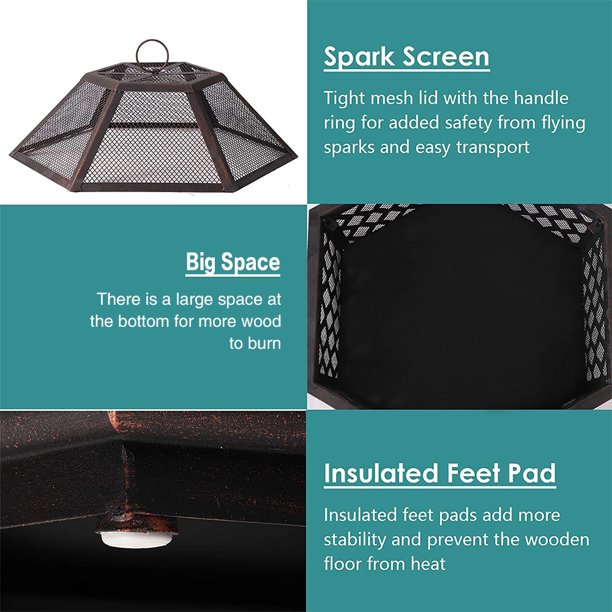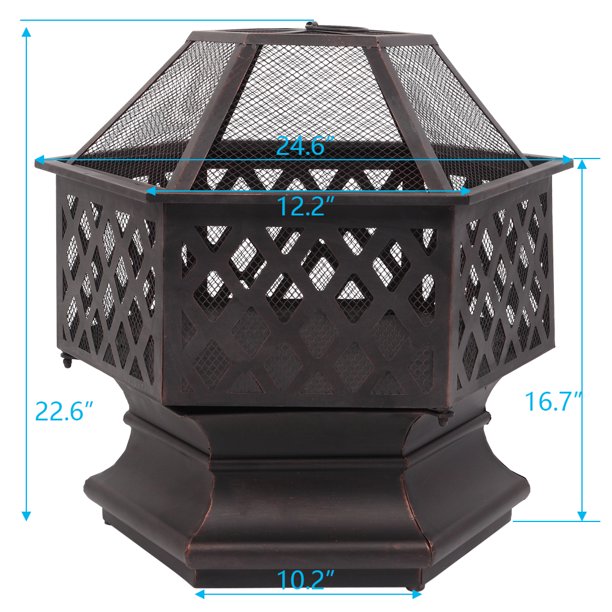 Planning to hold an outdoor barbecue party with family and friends? You may need this SEGMART multifunctional fire pit to help. This outdoor hexagon-shaped fire pit is constructed of heavy-duty iron mesh and frame and built in a square shape for added stability. The square fire pit comes with a mesh lid to prevent burning embers blowing and poker to stoke fire and remove the mesh lid safely. The provided outer cover helps keep the fire pit clean and dry. The sturdy design with a special hexagon-shaped look makes the fire pit an ideal choice for heating, barbecue and cooling drinks and food in the patio, garden, and yard.


Hexagonal Fire Bowl: Different from other shapes, special hexagon-shaped fire pit extends the heating effects. Provide more heat and warmth in six sides for you in cold winter and simultaneously keeping unruly sparks safely contained.

Durable Design: Our hex-shaped fire pit is crafted out of high-quality metal mesh and frame. Heat resistance paint-covered fire pit is excellent in rust and heat resistance, which is suitable for burning logs or charcoal and ensures its long service life.

Safe Steel Mesh Screen: This outdoor fire pit comes with a steel mesh screen, which overlaid a lattice style, safe and functional. also allows for plenty of oxygen to circulate as the fire burns, which means it easily burns. Besides, the mesh screen keeps air flowing while preventing sparks and embers from flying.

Deep Firewood Bowel: The iron fireplace for the backyard has a capacious hexagon bowel to keep plenty of wood-burning and let more heat flow come to you.

3 in 1 Multifunctional Fire Pit: This 3 in 1 multifunctional outdoor fireplace is suitable for many occasions--BBQ、Fireplace、Ice Bucket. As a wood-burning fire pit to get warmth at cooling night. Cooling drinks and food at the party for a bonfire. Enjoy a delicious outdoor barbecue when you have camping travel.

Multi-Purpose: The outdoor garden fire pit is ideal for cool evenings, providing cozy warmth, lithe light which makes a beautiful, captivating, comfortable atmosphere. With heat proof frame. Ideal for any outdoor gathering, lovers' bill and coo, parent-child communication or simply sit down alone.

Heavy Duty Material: This 24 inch Hexagon fire pit bowl stove is made of heavy duty steel, which makes this hex shaped outdoor fire pit durable and sturdy for both outdoor and indoor use.

Dimension & Deep Bowl:Unique Hexagon design makes this garden fire pit stand out. Overall dimension: 24.6'' L x 24.6'' W x 22.6'' H. The hex-shaped fire pit is deep and wide bowl will be able to hold a great amount of wood to keep the fire burning for hours (wood not included) and The built- in circular system in the bottom and openings all around (mesh on inside bowl walls) allow for good fire air flow and prevent ashes or small embers from falling out.

How to Set Up: Package includes a whole steel hex shaped fire pit with mesh lid, an detailed instruction, a fire poker, and necessary accessories. It is easy to put this steel pit together: simple connect the base to the fire bowl, install the ring on the lid and put lid on the bowl, that's ok; Flame retardant lid will limit the amount of ashes emitting from the flames. It is easy for you to lift and set the mesh lid safely with the poker provided, super safe to use.

Indoor & Outdoor Use: SEGMART hex-shaped fireplace will work well for indoor and outdoor activities, and is also suitable for patio, backyard, camping, garden, poolside etc. Light weight design about 24 lbs., not too small or too big, not to take up much room for storage or be in the way at a party, making this steel fireplace convenient to move around.

More Details:

Steel Handle--This portable fire pit comes with a handle on the mesh screen. It is easy to take the screen cover on and off.
With a poker--Poke the fire safely and conveniently with a poker.
Surface coating--Provide additional protection for durable use.
Heavy stable base--Firm and stable without shaking.
Warranty & Warm Tips: 
Please do not place the fire pit on a wooden floor or carpet. Always use a poker when you try to move firewood in the fire pit
Please keep firepit covered while not in use or on rainy days so as to prolong the using life
You can put a layer of sand in the bottom to keep bottom from burning out and preventing rust
Any issues about our Hexagon fire pit, Please feel free to us and we will reply in 12 hours.
Specifications:

Material: 100% Iron
Color: Bronze
Weight: 24.36lb / 11.05kg
Dimensions: (24.6 x 24.6 x 22.6)" / (62.5 x 62.5 x 57.5)cm (L x W x H)
Packaging Size: 33'' L x 22.64'' W x 11.22'' H
Package includes:
1 x Metal Fire Pit
1 x Safe Mesh Lid
1 x Poker
1 x Instruction 
Attention: Only Free ship to USA ⏰Delivery time 3-8 working days,Shipping from North Carolina for FedEx
If you've ordered the wrong size or have any other issue, you can always exchange or return your order. so long as Your items are unworn, undamaged, in re-sellable condition, and in their original packaging. Your return request is submitted within 30 days of receiving your original order.