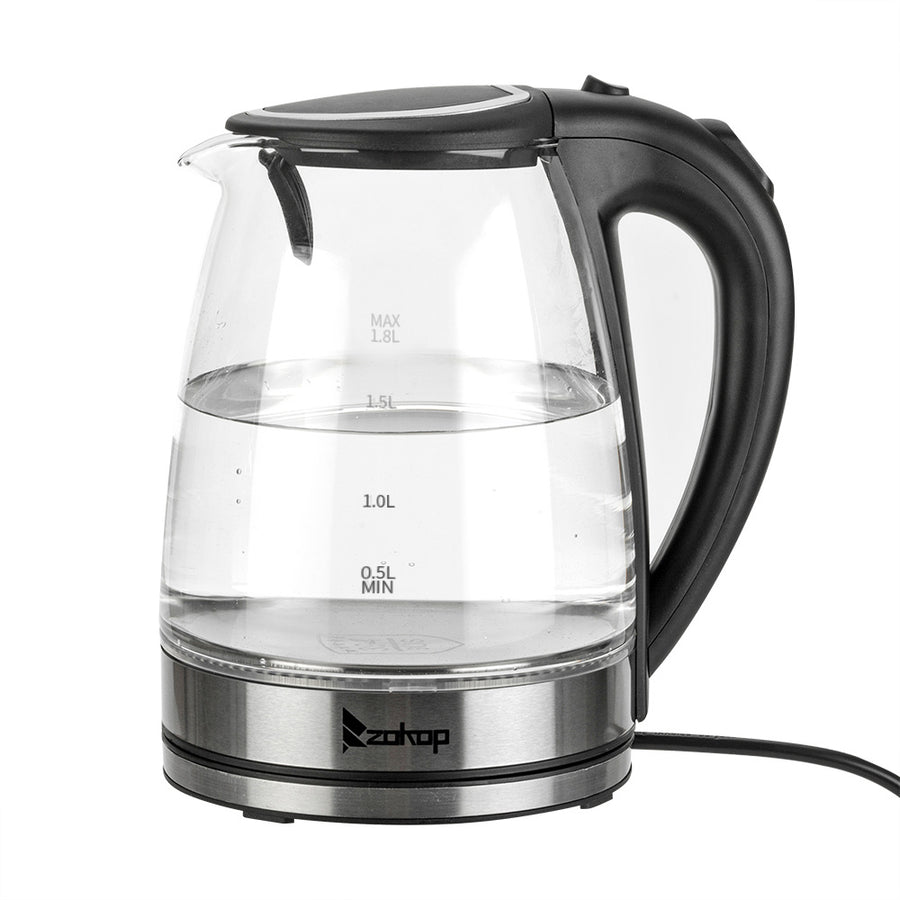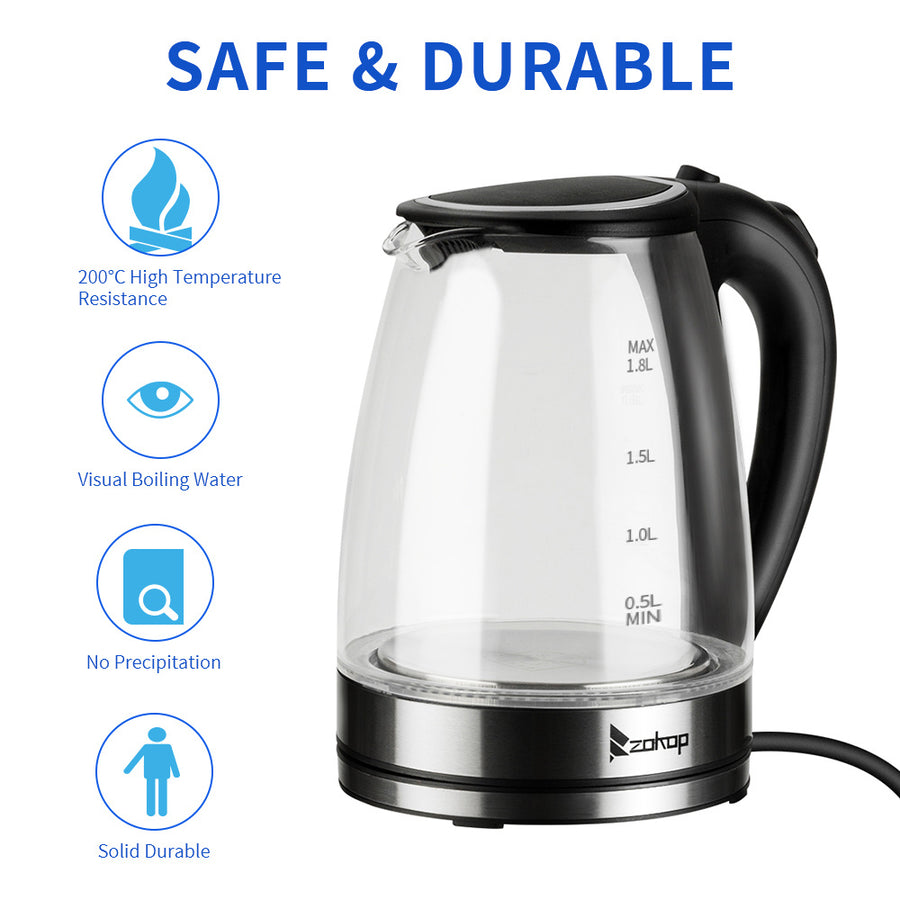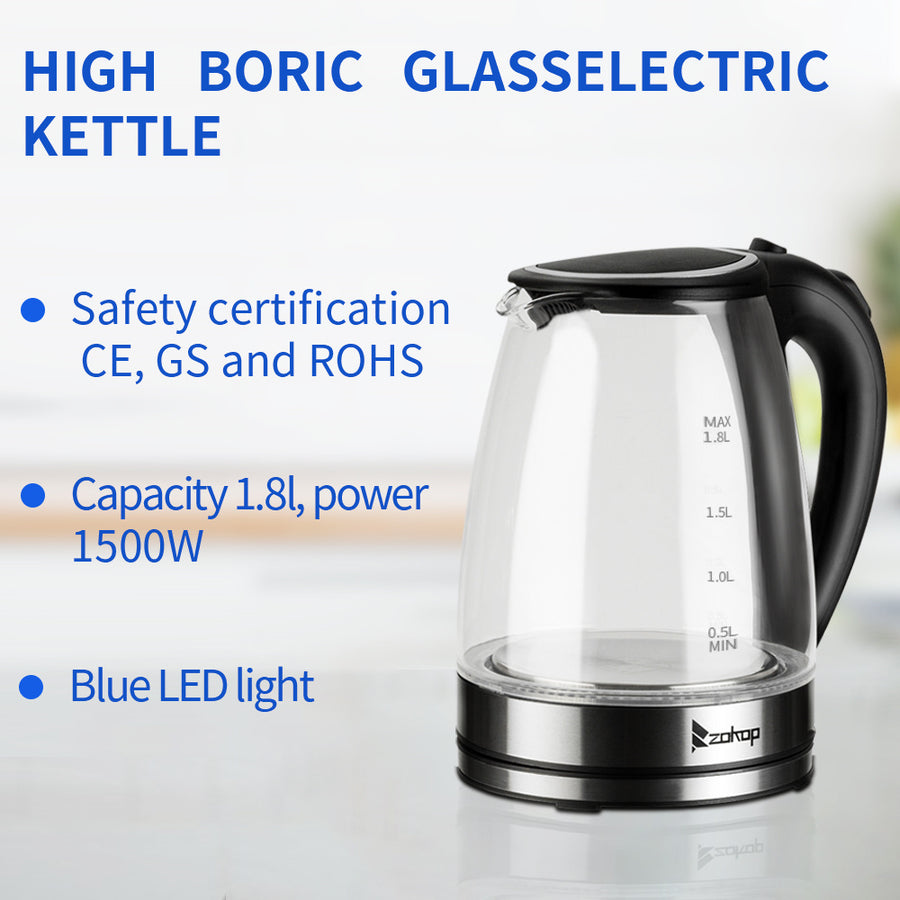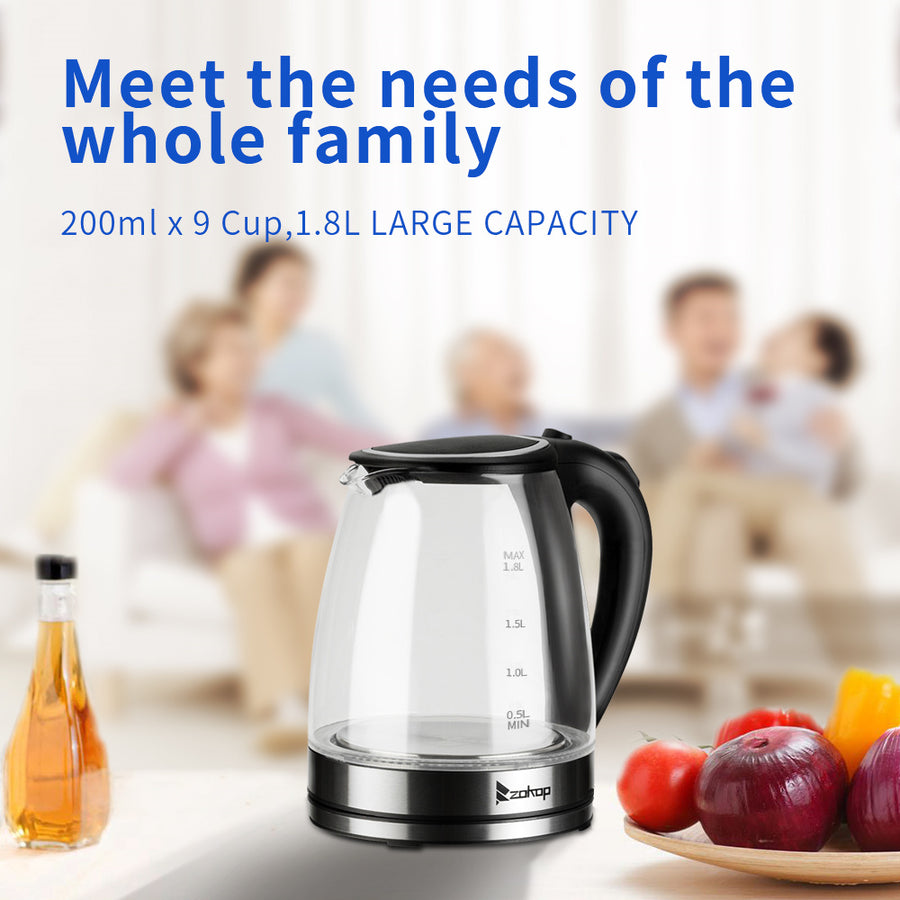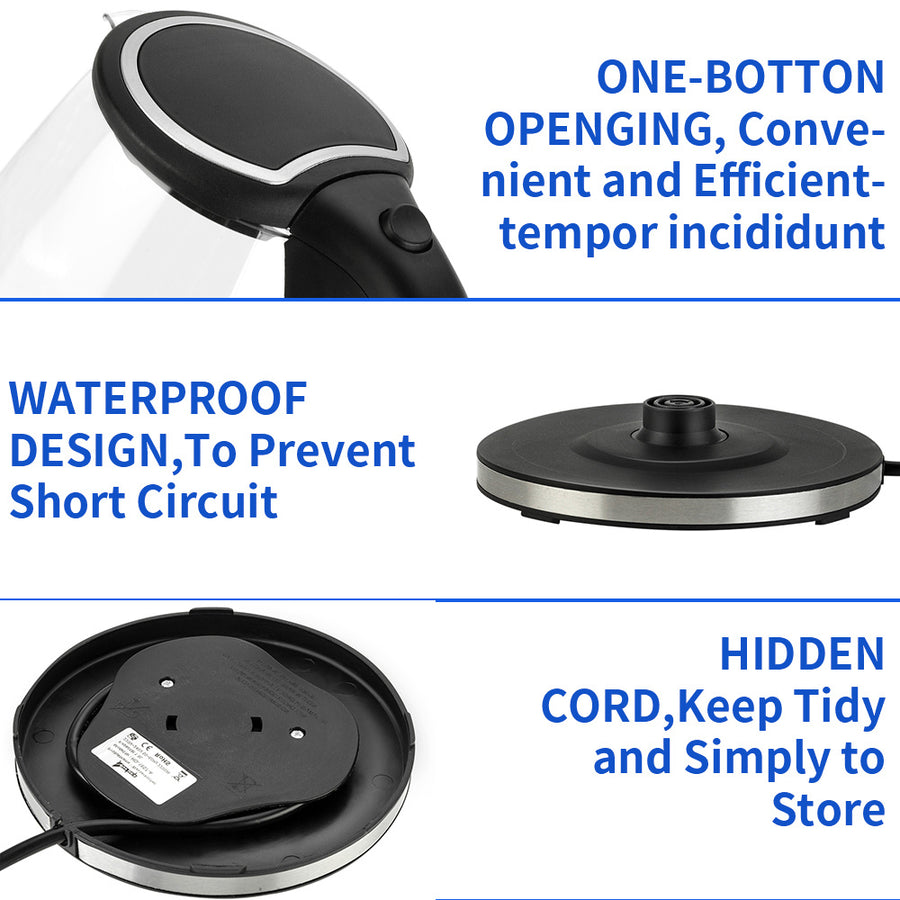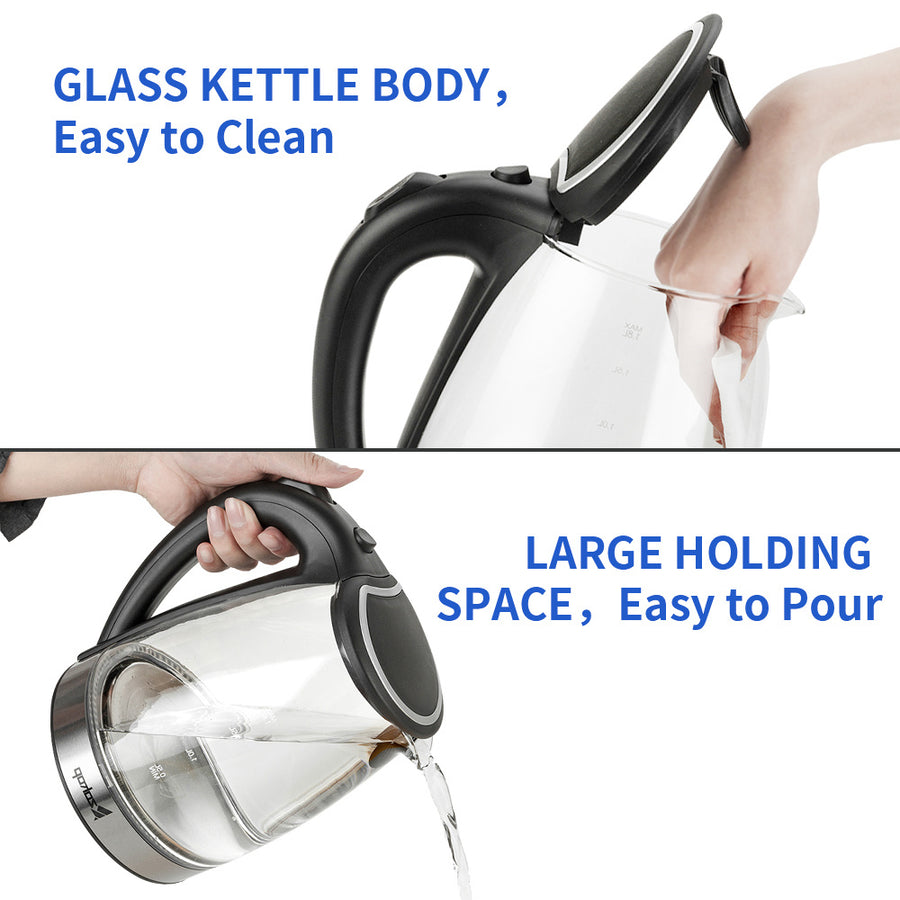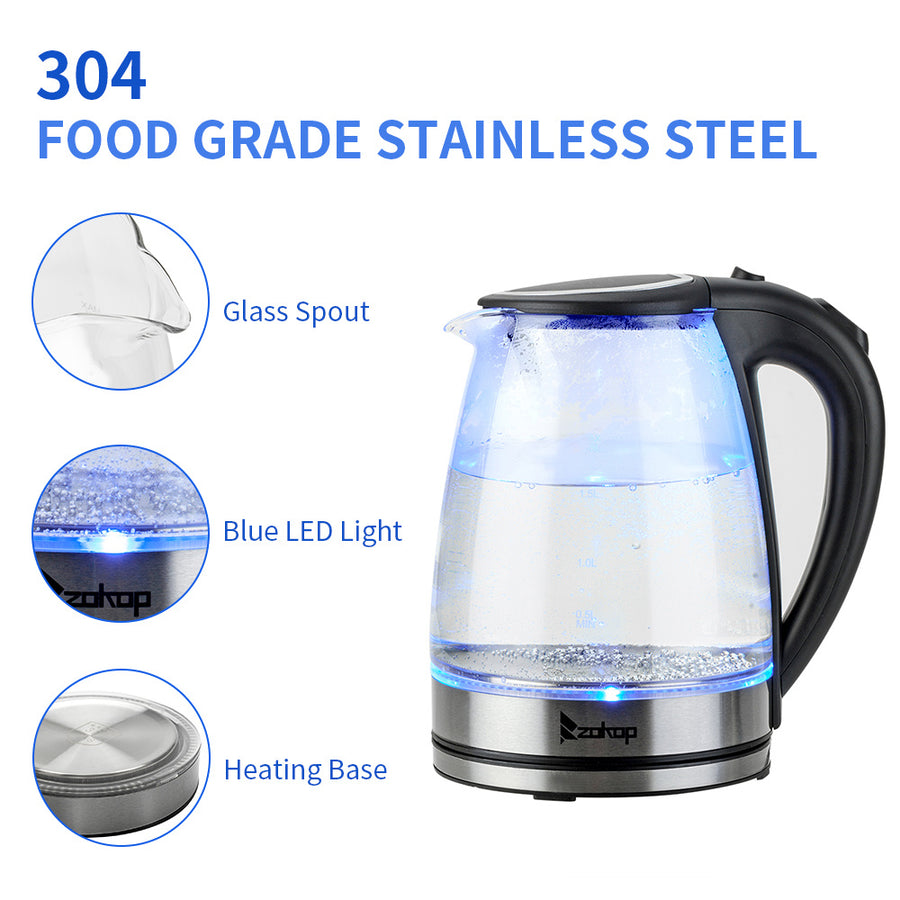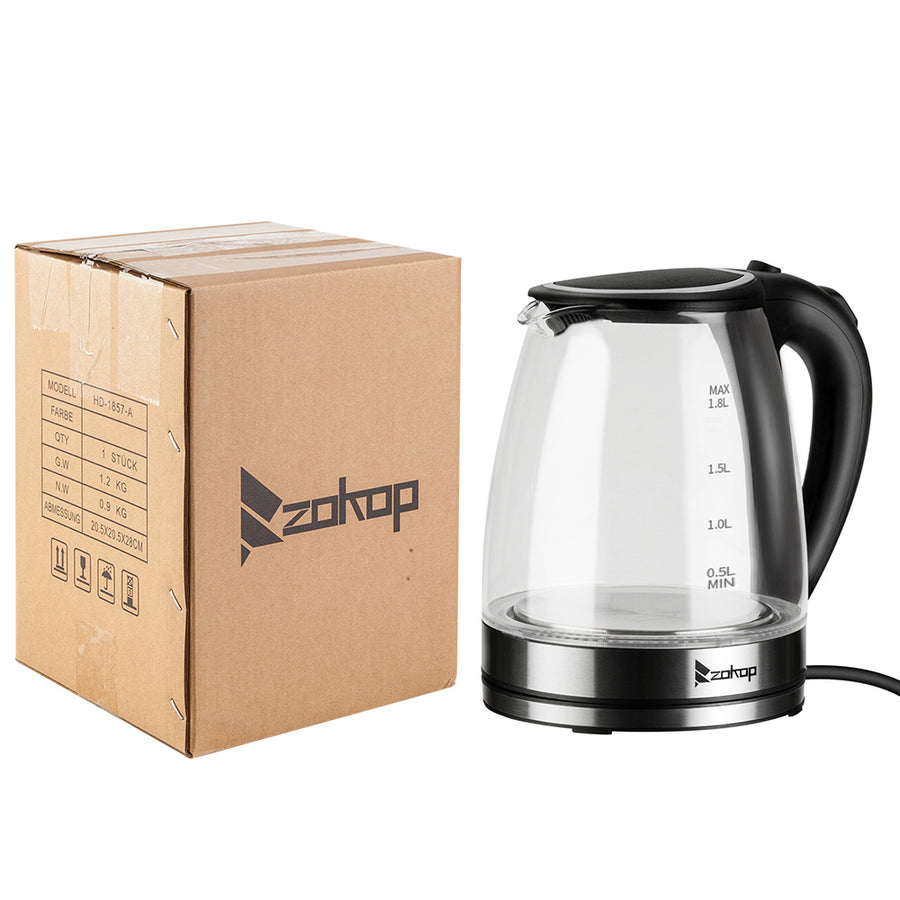 Quickly boil up to 1.8L of water with the SEGMART Electric Kettle. The 1500W unit brings water to a rolling boil in a matter of minutes—no need for a slow stovetop or noisy microwave oven. Ideal for any kitchen, the SEGMART water kettle conveniently boils water right on the countertop for use throughout the day—perfect for anything from coffee, tea, or hot cocoa to instant soup or noodles.
1. Superior Quality
The SEGMART electric tea kettle is made with the finest quality Borosilicate Glass, which lasts a lifetime, 304 stainless steel and heat resistant copolyester for the safest, freshest water.  At a high temperature, water kills almost all bacteria and pathogens living within it. Boiling water can make it safer to drink. A premium long lasting lid that stays shut when it's supposed to for years to come, unlike the majority of the others on the market.
2. Advanced Safety
This SEGMART kettle has added safety features. The internal High-quality thermostat controller boils water quickly and provides additional safety by shutting off the kettle once the water reaches a boil. There is no need to worry about this kettle boiling dry, as the Boil-Dry feature automatically turns the kettle off when it is nearing empty. Built with a Heat-Resistant Anti-Slip Grip Handle, no worries of it slipping out of your hands or getting burned while holding it. Will not contaminate liquids.
3. All-in-One Versatility
Great for hot or iced tea, coffee, instant food, and baby bottles, the SEGMART water kettle has an option to keep water at the desired temperature. The kettle easily lifts from its 360° swivel base for easy filling at the sink and graceful serving without the hassle of a power cord. 360° Clear Glass Body is perfect for precise measuring of water.
4. Fast to Boil
The SEGMART Electric Kettle is equipped with a blue LED light which indicates the kettle is heating. This Fast-heating electric glass and steel kettle with 1500W power for quickly and conveniently boiling water. And be ready to use for tea, oatmeal, coffee, pasta, and much more.
5. Large Capacity
This SEGMART electric kettle has a total capacity of 1.8 liters and it measures 8.1"L x 8.1"W x 9.5"H. You can use it to prepare coffee, tea, or any other hot drinks for your family or friends. 
6. Save Your Time & Electricity
This SEGMART electric kettle is more energy-efficient than a microwave or electric stove-top. It saves your time since you need a very short time to boil your water, saving your money.
7. Coffee & Tea Taste Better
Water does not lose its vibrancy since the longer it boils, the more it loses its flavor. You know when the water is boiled since the SEGMART electric kettle will automatically shut off, and you can use it immediately.
Features
1.Electric kettle is made of High-grade stainless steel & high-quality borosilicate glass
2.360°rotation base
3.LED light change automatically
4.Auto shut-off, boil dry, and overheat protection
5.Ergonomic handle
6.Easy to open the lid
7.Large pouring spout with mesh filter for perfect, spill-proof pours
Specifications
1.Model: HD-1857-A
2.Type: Electric Glass Kettle
3.Capacity: 1.8L
4.Material: High-Grade Stainless Steel & High-Quality Borosilicate Glass & BPA-Free Plastic
5.Voltage: 110V,50-60Hz
6.Power: 1500W
7.Plug Type: US Standard
8.Thermostat: Double Metal Temperature Control
9.Heating Elements: Heating Plate 304
10.LED Illuminated Color: Blue
11.Dimensions:  (8.1 x 8.1 x 9.5)"(L x W x H)
12.Weight: 3.31lb / 1.5kg
 Package Includes
1 x Electric Glass Kettle
1 x Base
1 x Manual
Attention: Only Free ship to USA ⏰Delivery time 3-8 working days,Shipping from North Carolina for FedEx
If you've ordered the wrong size or have any other issue, you can always exchange or return your order. so long as Your items are unworn, undamaged, in re-sellable condition, and in their original packaging. Your return request is submitted within 30 days of receiving your original order.